Travel Aid Global is a trailblazing organization committed to making local and international
travel accessible, safe, and enjoyable, is thrilled to unveil its upcoming flagship event – the
Travel Aid Expo, Workshop, and Honors.
Scheduled for December 8th, 2023, at the Kofi Annan ICT Center in Accra, Ghana, this event promises to be a vibrant celebration of the travel industry, welcoming travel enthusiasts, industry experts, and stakeholders alike.
READ ALSO: Medikal Unveils Grand Plans with "Planning and Plotting Concert" at Labadi Beach Hotel.
Event Highlights
Expo
The Travel Aid Global event on December 8th is set to be a multifaceted experience, serving as a dynamic platform for networking, exploring services offered by travel agencies, and gaining valuable insights into the evolving travel landscape. Travel enthusiasts can expect an immersive exhibition featuring a diverse array of travel agencies, each showcasing unique packages, promotions, and services.
Workshop
Industry experts will lead insightful workshops on various travel processes, empowering attendees with the knowledge they need to embark on their dream journeys. Topics will include visa acquisition, study abroad opportunities, and work abroad programs.
READ ALSO: The Impactful Role of Upper West Music Awards (UMA) in the Industry.
Honors Ceremony:
The event will culminate with a prestigious Honors ceremony, recognizing excellence in the travel industry. Outstanding contributions from travel agencies, individuals, and organizations will be celebrated, highlighting the commitment to excellence and innovation within the travel sector.
Why Attend:
Networking Hub: Connect with fellow travel enthusiasts, industry professionals, and potential partners in a dynamic and collaborative environment.
Value Showcase: Explore the innovative solutions and partnerships that Travel Aid Global brings to the travel industry, making travel more accessible and enriching.
Community Engagement: Be part of a community that shares a passion for exploration, learning, and making meaningful connections within the travel sphere.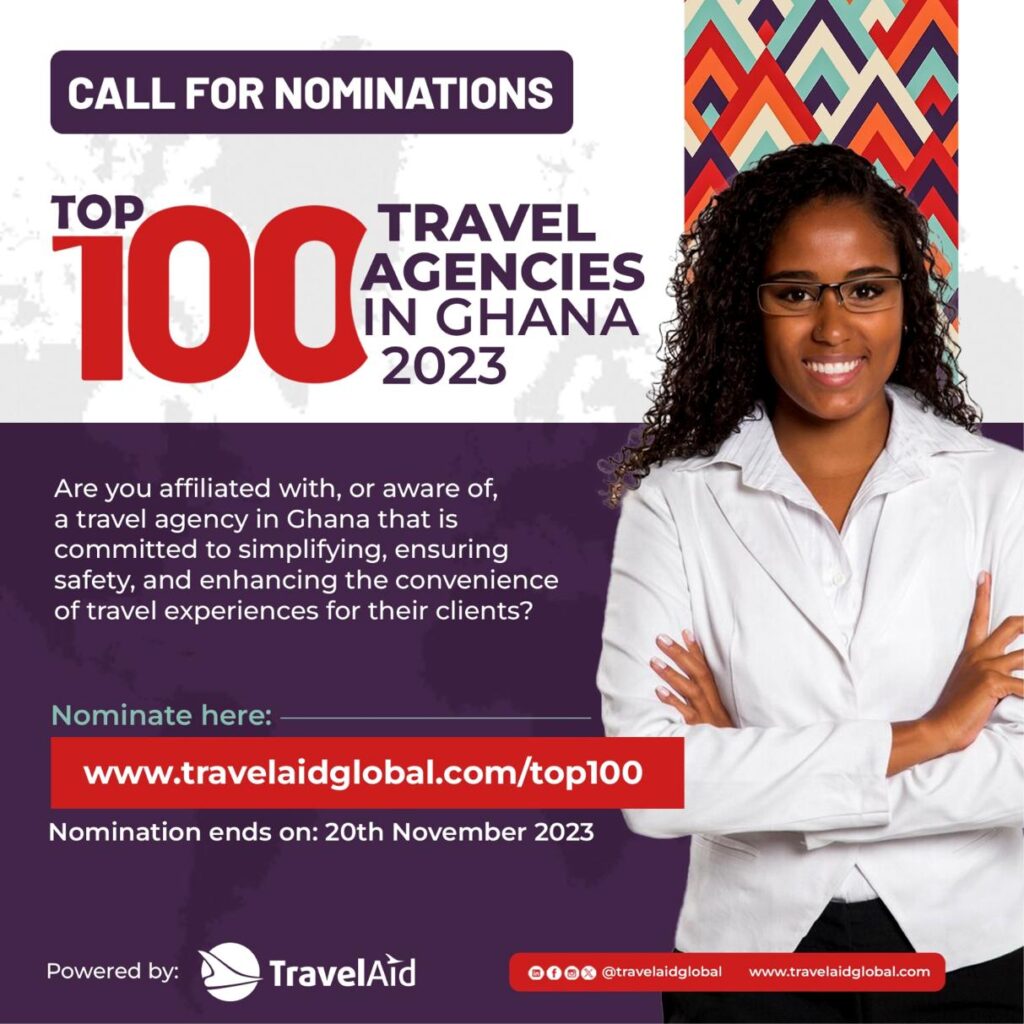 READ ALSO: Avance Media List of Top 50 Bloggers in Ghana 2023.
Share this opportunity with others who are in the travel and tour business not excluding anyone who would like to attend the event.
Credit: 247Hitz Events | Travel Aid Announces Grand Expo & Deadline for The Top 100 Travel Agencies in Ghana Honors