Avance Media Names Top 50 Bloggers in Ghana 2023. Since 2019, Avance Media – a private PR firm in Africa has been monitoring the activities of bloggers in Ghana and ranking them based on their annual website traffic and social media data.
This year's list of the top 50 Ghanaian bloggers was compiled and released on the 17th of October 2023. On top of the list was Ameyaw Debrah of www.ameyawdebrah.com followed by Samuel Amadator of Dklassgh.net as the first runner up. Clement Asamoah of www.gossips24.com was revealed as the 2nd runner-up for the list of top 50 Bloggers in Ghana in 2023.
READ ALSO: Jacob Kwaku Gyan Emerges Winner As Male Entrepreneur of The Year of The 2020 Young Achievers Summit Awards.
This list reflects the works of the various bloggers in the year under review. Below is the list containing all the 50 top bloggers in Ghana in 2023 and the respective websites plus their ranking.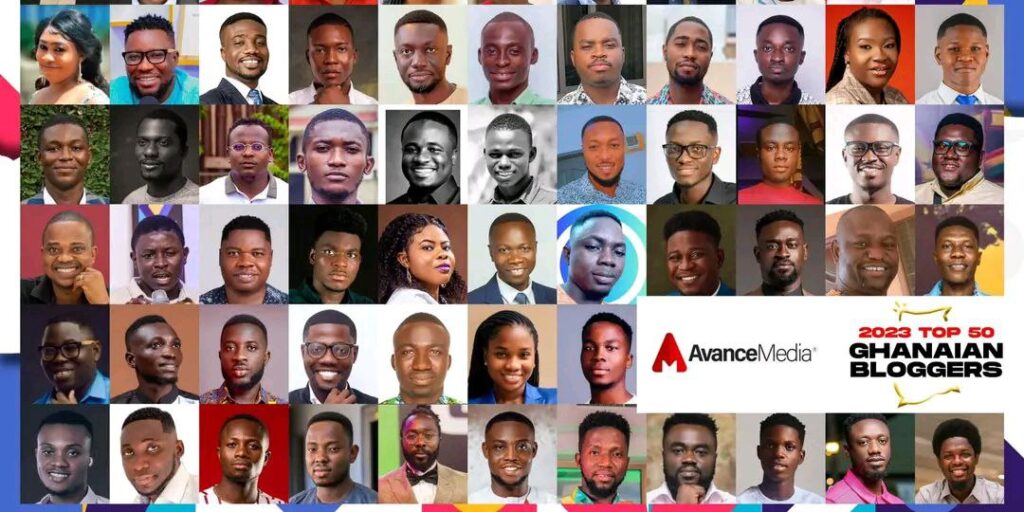 Top 50 Bloggers in Ghana 2023
Ameyaw Debrah – ameyawdebrah.com
Samuel Amadotor – dklassgh.net
Clement Asamoah Yeboah – gossips24.com
Papaga S. Bless & Frank B. Mawutor – vimbuzz.com
Rashad K. Emmanuel – ghpage.com
Felix Adomako Mensah – zionfelix.net
Andrews Mensah – ghgossip.com
Ohemaa Candace – ghsplash.com
Gideon F. Nyamekye – kickgh.com
Eugene Osafo Nkansah – nkonkonsa.com
Simon Kabutey Mensah – atinkanews.net
Augustus Koranteng Kyei – kobbykyeinews.com
Stephen Zoure – mynewsgh.com
Sellas Manna – worshippersgh.com
Dennis Dwomoh – thedistin.com
Bra Banie – christianvibesgh.com
Barimah Amoaning Samuel – entamoty.net
Alfred Torgah Elikplim – ghnewsbuzz.com
Shepherd Yaw Morttey – mfidie.com
Emmanuel Adom Ghansah – ghanamusic.com
Ellis Ferdinand – educationghana.org
Alexander F. Abaka & Prince F. Cudjoe – ghanandwom.net
Agboni Nicholas Kelvin – coverghana.com.gh
Dan Kwasi Prince – dailyviewgh.com
Emmanuel Boakye – emmarnitechs.com
Cobby Collins – bestshowbiz.com
Emmanuel Atigah – ictcatalogue.com
Esther Xorlali Kugbey – xorlali.com
Samuel Kumah – sammykaymedia.com
Ebenezer Donkoh – nydjlive.com
Anamoo C. Emmanuel – ichrisgh.com
Gideon Awuah – youths4success.com
Georgina Dotsey – gospelhypers.com
Abdul Gafaru Sultan Salifu (Abdul Sultan) – 247hitz.com
Asare Emmanuel – emmacitizen.com
Odompleh Bernard Kwesi – the1957news.com
Francis Kofi Akonor – modernnewsgh.net
Albert Nat Hyde – bongoideas.net
Frank Oteng – ghlagatin.net
Edward Asare – edwardasare.com
Jullie J. Kanz & Sewornoo P. Atsu – hello-gh.com
Michael A. Agyapa – dailynewsghana.net
Stephen T. Charway – gharticles.com
Charles Wundengba – wundef.com
Isaac Annor – nsemwokrom.com
Emmanuel Donkor – donkorsblog.com
Neldrick Kwame Sackey – kwamemotion.com
Elorm Beenie – beeniewords.com
Jibriel S. Jagbesie – ghkasa.com
Kwami Fortune – kwamifortune.com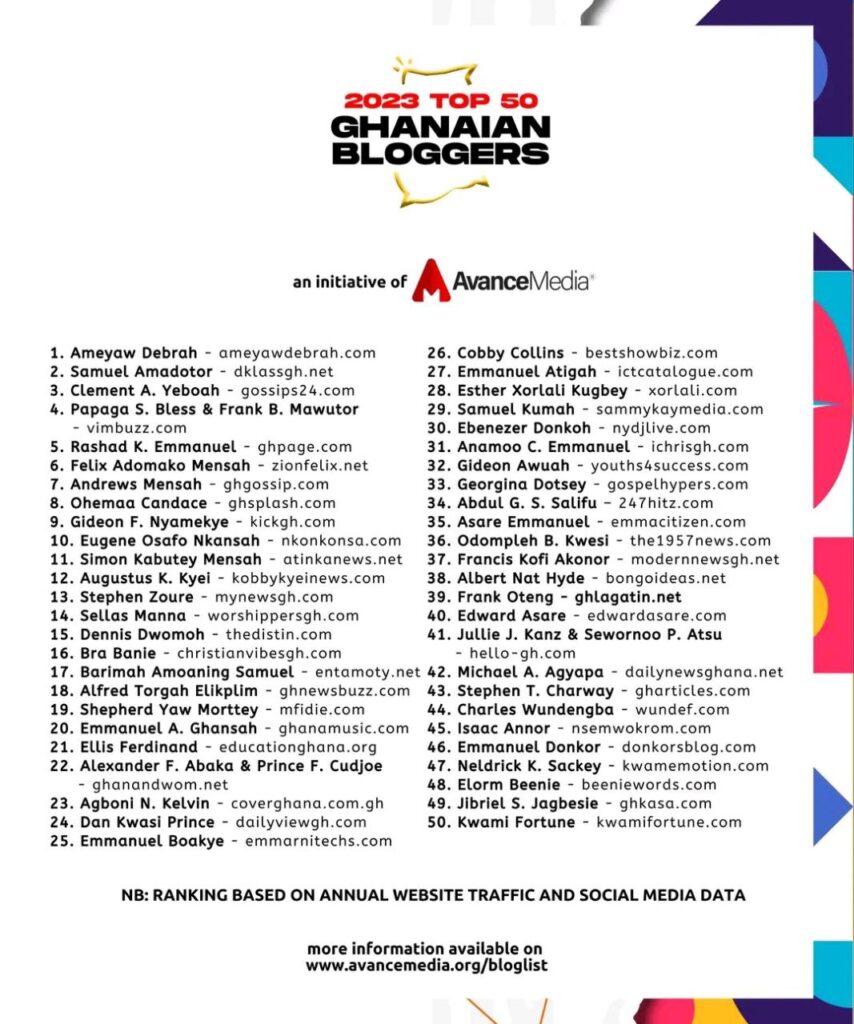 READ ALSO: The 12 Laws Of Karma That Will Change Your Life.
About Avance Media
Avance Media is Africa's Leading Media and Public Relations Agency focused on creating varied content for the Global Market.
Built on several years of distinct values of persistence, Avance Media's story remains a source of inspiration and a pillar to the rapid growth of a company yearning to become a Global Brand.
Having identified the Wide Gap in Reporting the Success Stories of Africa, Avance Media Leads and Partners in changing the narrative of the Continent through the comprehensive ranking of Personalities and Organisations across a range of sectors
As a leading Media and Public Relations institution, Avance Media has been featured in various news content on both digital and print media. Source: AvanceMedia.org
Credit: 247Hitz News | Avance Media List of Top 50 Bloggers in Ghana 2023