The Upper West Music Awards (UMA) stands as a pivotal player in the music industry, offering a myriad of benefits to artists, fans, and the industry as a whole.
The Impactful Role of Upper West Music Awards
Here are key advantages that make UMA an essential element in the music landscape:
Recognition and Validation
Winning or even being nominated for UMA is a prestigious acknowledgment of an artist's talent and hard work. It serves as a validation of their artistic endeavors, providing a profound sense of accomplishment.
Increased Exposure
UMA comes with extensive media coverage, significantly elevating an artist's visibility. This exposure can result in increased sales, more streams, and higher concert attendance, ultimately helping artists reach a broader audience.
READ ALSO: Medikal Unveils Grand Plans with "Planning and Plotting Concert" at Labadi Beach Hotel.
Boost in Sales and Streaming
Nomination or victory at UMA often leads to a spike in album and song sales, as well as increased streaming numbers. This surge in sales and streaming directly impacts an artist's revenue.
Career Advancement
UMA acts as a gateway to career opportunities. Winning an award can pave the way for more record deals, endorsements, and concert bookings, propelling an artist's career forward.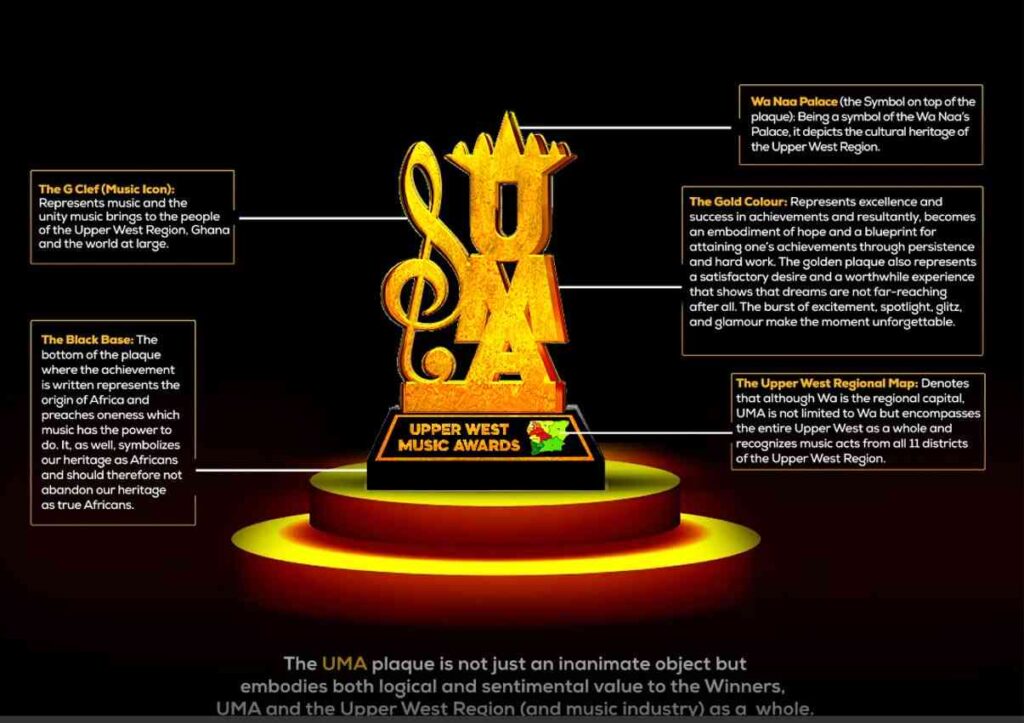 Fan Engagement
The excitement and engagement generated by UMA among fans are unparalleled. Fan voting and keen interest in the award shows foster increased fan loyalty and interaction.
READ ALSO: Download Shatta Wale – Designer.
Networking and Collaboration
The UMA ceremony serves as a hub for artists, industry professionals, and music enthusiasts. This environment cultivates networking opportunities and potential collaborations between artists and industry experts.
Increased Artistic Freedom
Success at UMA can provide artists with more artistic freedom. It may empower them to pursue experimental or niche projects without the pressure of commercial success.
Boost to Record Labels
Awards not only benefit artists but also contribute to the visibility of record labels and boost the sales of their music catalogs.
READ ALSO: Olu of Warri Kingdom Ogiame Atuwatse III CFR Donates to Volta's Flood Victims in Ghana.
Promotion of Unity and Diversity
UMA plays a role in promoting diversity and inclusivity in the music industry. By recognizing artists from various backgrounds and genres, it encourages a more diverse representation in the music world.
Historical Record
UMA creates a historical record of industry achievements and milestones, serving as a reference point for future generations studying the evolution of music and its societal impact.
Inspiration for Aspiring Artists
UMA has become a source of inspiration for aspiring artists, showcasing success stories and motivating them to pursue their dreams in the music industry.
READ ALSO: Vodafone Ghana Introduces eSIM Offers Subscribers 15GB Data.
Charitable Contributions
UMA utilizes its platform to raise awareness and funds for charitable causes, making a positive contribution to society beyond the music industry.
In essence, UMA transcends being a glitzy event; it stands as a driving force in the music industry. Recognizing talent, promoting unity and diversity, and providing artists with the recognition and opportunities they need to thrive, UMA also serves as a source of entertainment and inspiration for music enthusiasts in the Upper West, North, Ghana, and beyond.