Many people still so not know that YOLO Season 6 is out. Farmhouse Productions has launched and premiered YOLO Season 6 both in Accra and Tamale in January, 2023. Earlier this month,  they released the YOLO Season 6 Episode 1 which continued the story from the previous season.
Finally, YOLO Season 6 Episode 2 has been released and you will love it if you have already watched the episode 1.
Farmhouse Productions has finally released the second episode of  YOLO Season 6 for cherished viewers to watch both on YouTube and on television. They started this episode from the previous episode, YOLO Season 6 Episode 1.
This episode feature Adjetey Anang, Queenstar Anaafi, Aaron Adatsi, Jackie Appiah, Kelvin Bruun, JB Persah, Nana Ama Amapofo Ababio, Maltiti Mumuni Zubaida, and Akosua Asare Brewu.
YOLO Season 6 was created, produced and directed by Ivan Quashigah for Farmhouse Productions.
You can watch and download the YOLO Season 6 Episode 2 below. Remember, You Only Live Once. Don't wait to watch this another time!
READ ALSO: Download Rumours Season 1 Episode 1.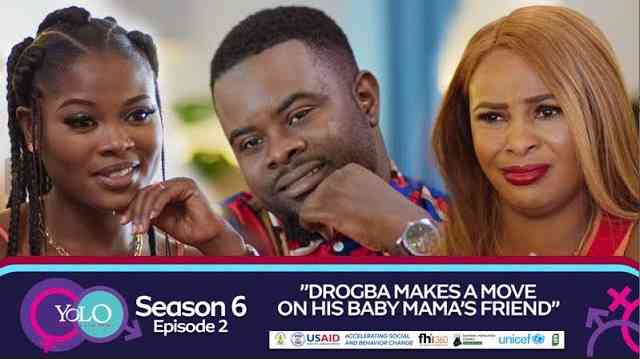 Synopsis of YOLO Season 6 Episode 2
In the Northern Region, Cyril has volunteered to teach in a junior high school. Many of his students like him because of his engaging teaching style and wouldn't want to miss class for no reason. Cyril learns that one of his brightest pupils is getting married off.
In order to fight child marriage, teenage pregnancy, and other health and social challenges including malaria, teen pregnancy, water, sanitation, and hygiene, among others, Cyril teams up with the headmaster and George, who comes to visit him on a curiosity tour.
Mark Anthony and his coworkers are eager to get up with their former classmates and make new friends from other schools as vacation classes are about to begin again in Accra. Teachers have little influence over the lives and movements of their students, therefore individuals like Odenkyem and Flex view this time as the ideal opportunity to explore.
Emily who missed out She travels with Maame Yaa when Cyril travels to the north to make amends with him. They ultimately team up with Cyril and George in their effort to support young people in making wise decisions and utilizing the resources offered by the health centers for those in need of medical attention.
On the other hand, Jane has changed, and Drogba has revived his interest in her now wholly committed to her career as a beautician. She informs him that getting married would be the only way they could be together, but Drogba doesn't seem ready for that kind of life.
With others like Flex, Pharisee, and Tilly coming forward with their own challenges, the old issues of reproductive health problems, malaria, hand washing, drug usage, and teenage pregnancy facing these youths generally do not seem to be going away quickly.
READ ALSO: Pains of Ignorance Full Movie 2022 by Malex Praise.
Watch YOLO Season 6 Episode 2
Download YOLO Season 6 Episode 2
Click the button below to download YOLO Season 6 Episode 2 on your device and watch anywhere and anytime.
Where you able to download this video? Let us know what you think about YOLO Season 6 Episode 2.
READ ALSO: Age 18 Season 4 Episode 6.
Subscribe to our notifications now. Receive the next episode of YOLO Season 6 TV Series on your device anytime soon.
Source: 247Hitz.Com | YOLO Season 6 Episode 2