At the helm of Pitch Buzz is Kwami Fortune, a seasoned PR professional with a fervor for nurturing talent and a knack for creating ripples in the media industry.
Armed with years of hands-on experience, Fortune has intimately witnessed the hurdles faced by emerging artists and creatives in gaining recognition for their work. Motivated by this, he conceived Pitch Buzz, a platform designed to be the springboard for burgeoning careers.
READ ALSO: The Impactful Role of Upper West Music Awards (UMA) in the Industry.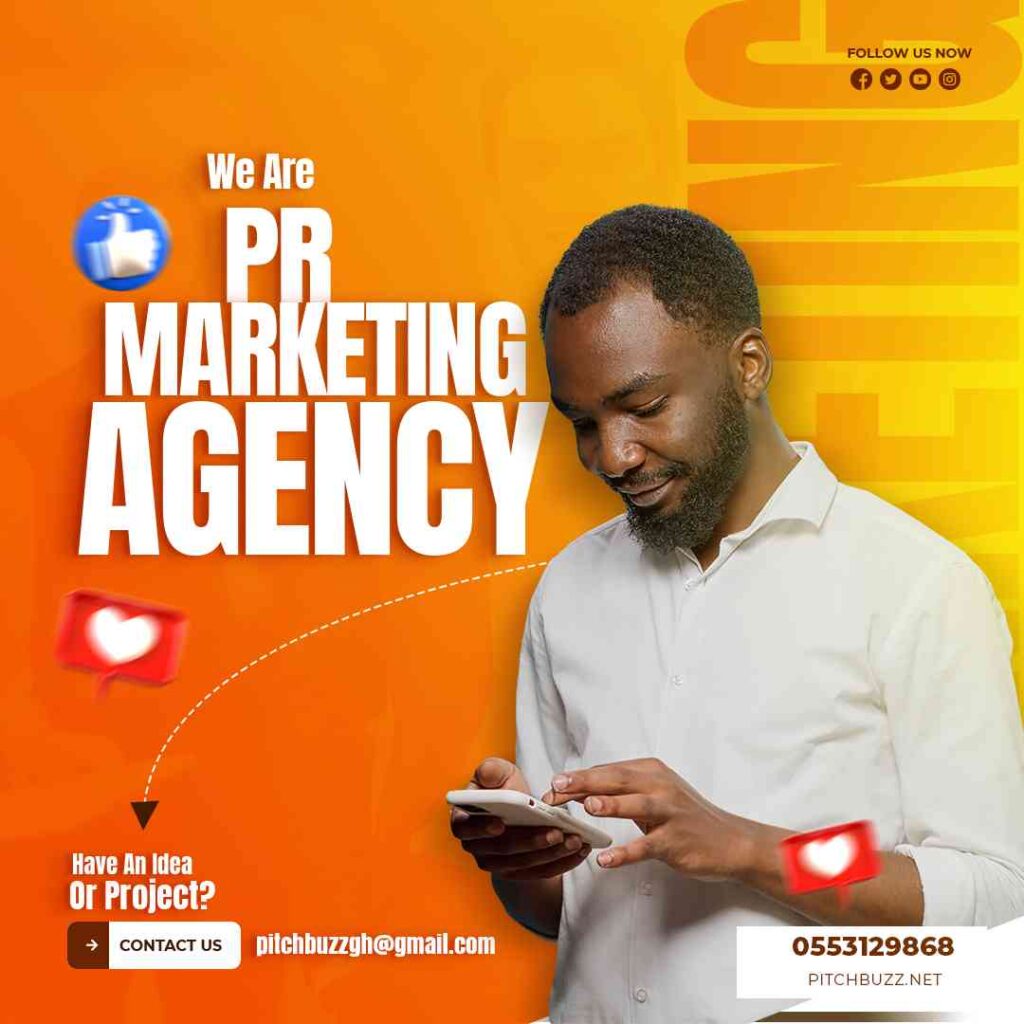 Unveiling the Pitch Buzz Experience
Publicity
One of Pitch Buzz's cornerstone offerings is its meticulously tailored publicity services. Recognizing the daunting challenge of standing out in the vast sea of content, Pitch Buzz utilizes its expansive network of media contacts and PR expertise. Their goal is to ensure that aspiring creatives, be it a musician debuting a single or a filmmaker with an innovative project, receive the attention they rightfully deserve.
Music Publishing
Acknowledging the significance of intellectual property in the music industry, Pitch Buzz provides comprehensive music publishing services. They guide artists in safeguarding their creative rights, securing fair compensation, and facilitating the global distribution of their music. This allows artists to concentrate on their craft – creating music – while Pitch Buzz manages the intricate business aspects.
READ ALSO: Because of Ghanaians I Afraid to Wear Bikini in My Own House – Nana Ama McBrown.
Marketing Magic
Pitch Buzz's commitment goes beyond publicity and music publishing; it extends to top-notch marketing strategies. Harnessing the latest digital marketing techniques, social media campaigns, and branding expertise, they assist emerging talents in constructing a robust online presence. This not only enhances visibility but also cultivates a dedicated fan base.
The Collaborative Approach
What distinguishes Pitch Buzz is its dedication to collaboration. Kwami Fortune and his team comprehend that each creative journey is unique. Hence, they engage closely with every client, tailoring their services to align with individual needs and aspirations.
It's not merely about delivering services; it's about nurturing a sense of community and support that transcends the conventional client-provider dynamic. At Pitch Buzz, the emphasis is on building lasting relationships and propelling creatives toward enduring success.
SEE ALSO: Medikal Unveils Grand Plans with "Planning and Plotting Concert" at Labadi Beach Hotel.
247Hitz Business ~ Kwami Fortune Unveils New Media "Pitch Buzz"