In a social media post made on the 17th of March 2020, Facebook Business has announced a new grant program known as the Small Business Grant Program to support small business communities in these challenging times of a pandemic outbreak.
The program which is said to be launched in the next few weeks will be giving out a total grant of $100M to business who will be qualified for the grants.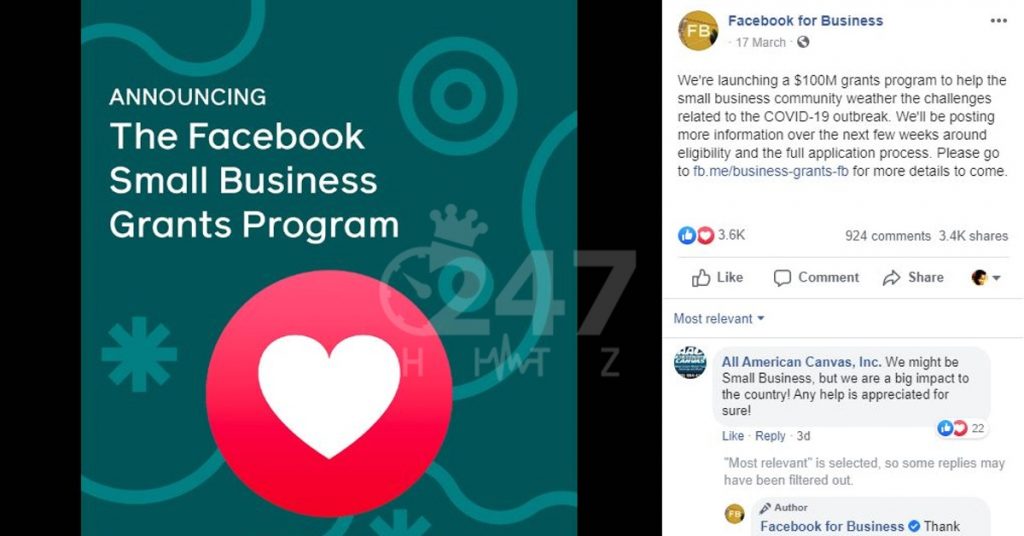 READ ALSO: MTN Ghana Introduces ZERO Charges On Peer-to-Peer Mobile Money Transaction Up to GH¢100.
Facebook Business has laid out an application procedure and eligibility requirement that would tell if a business is qualified for the grant.
" We're launching a $100M grants program to help the small business community weather the challenges related to the COVID-19 outbreak. We'll be posting more information over the next few weeks around eligibility and the full application process. Please go to fb.me/business-grants-fb for more details to come. "

– FACEBOOK
READ MORE: COVID-19: Not All Hand Sanitizers Are Effective Against Coronavirus. Here's Why!
Who Is Eligible For The Small Business Grant Program?
According to Facebook, they will be offering the $100M in cash grants and ad-credits for up to 30,000 eligible small businesses in over 30 countries where the social media company operates. More details about this grant will be published in a few weeks to come.
This program will help small businesses like yours to keep their workforce going strong in these hard times. Aside from that, it will also help you cut cost on rent, connect with more and new customers whiles covering your operational cost for this period.
READ ALSO: Thank You For Watching YOLO Season 5 Watch Out For YOLO Season 6.
Facebook have made mention that they would be accepting applications for the Small Business Grant Program in the coming weeks. You can sign up using this link to receive more information and updates about the program when it becomes available.
Share this information with family and friends who runs a Small Business. This information will be very useful to them.
Buy the author a coffee