TECNO Mobile Ghana have announced on their various social media handles their new agenda for the year 2020 ahead of the launch of their new TECNO CAMON device yet to be introduced.
They call it the CAMON CEO (CEO standing for Camera Experience Officer) for which they are recruiting 25 people from Ghana to experience the all-new TECNO Camon 15 mobile phone.
According to TECNO Mobile, this is the first of it kind, they have never organized anything like this and are sure this is going to be pretty amazing for you.
READ ALSO: Facebook Launches The Build for COVID-19 Global Online Hackathon.
Who Is Qualified This?
Any TECNO Mobile user (T-Fans) whose phone has a camera is qualified for this.
What you need to do:
Participants must be a member of the TECNO Spot forum.
The participant is only required to tell TECNO Mobile in the TECNO Spot forum the type of phone they are currently using and
Upload the beautiful and memorable photo in your album then
Tell them the story behind that photograph
After doing the above, you are required to share the activity (you uploaded photo and story) from TECNO Spot to all the various social media. They include Facebook, Whatsapp, Twitter, Instagram just to mention but a few.
SEE ALSO: See Current Number of Confirmed Coronavirus Cases In Ghana
According to TECNO Mobile, you may get the chance of becoming their CAMON CEO, one of the 25 people to have a feel and experience of the yet to be launched CAMON 15 phone.
The recruitment period is from 16th March 2020 to 5th April 2020. All winners would be announced on 7th April 2020.
Prizes you would receive from TECNO Mobile as a winner include an Exclusive CAMON CEO Badge, One of The 25 CAMON 15 Phones that would be given out for trials and a Face-to-Face conversation with the CAMON Experts, isn't that so cool?
READ MORE: Ofori Amponsah Predicted Dooms Day In 2020 in One of His Old Songs.
Check out the image below for more information about how to participate in the TECNO CAMON CEO and don't forget to share with your friends and loved ones so that they can also participate.
TECNO Mobile CAMON CEO Recruitment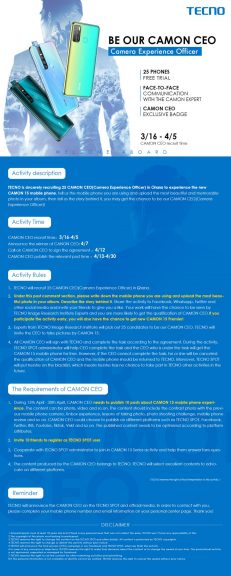 We will be publishing the Tecno Camon 15 and Tecno Camon 15 Pro specifications any moment from now. Subscribe to our notifications to receive interesting daily updates and latest events like the TECNO Mobile is Recruiting 25 CAMON CEO.