What are the Spiritual Uses of Leaf of Life, one may ask. In an earlier article, we talked about a herb that will draw your lover closer to you when you use it. This herb is a leaf that is referred to by many as "Leaf of Life" or "Miracle Leaf", in Ghana it is known as Taameawu, whiles botanically some scientist refers to it as Kalanchoe Pinnata.
Today I am going to talk about the spiritual uses of the leaf of life or you can say the spiritual uses of Tameawu. If you are curious to know how you can use the leaf of life for spiritual purposes, stay glued to your screens.
I will also be taking you through some of the health and spiritual benefits of using Tameawu or the Leaf of Life.
Origin of Leaf of Life (Tameawu Leaf)
In Ghana, Tameawu in the Asante Twi dialect means "If you hate me, die!". The Leaf of Life which is known by others as Miracle Leaf also has many names depending on where you asked. Some of these names include Bryophyllum pinnatum, Kalanchoe pinnata, Air plant, Cathedral bells, Life plant, and Goethe plant. In Nigeria, the Taameawu plant is known as "Abamoda" or "Odundun" in the Yoruba dialect, "Odaa Opue" in the Igbo dialect, Danweshin or Ekpokpo by Edo people, and Afiayo in the Efik dialect.
READ ALSO: How to Use Adedenkruma Leaves Attract Money.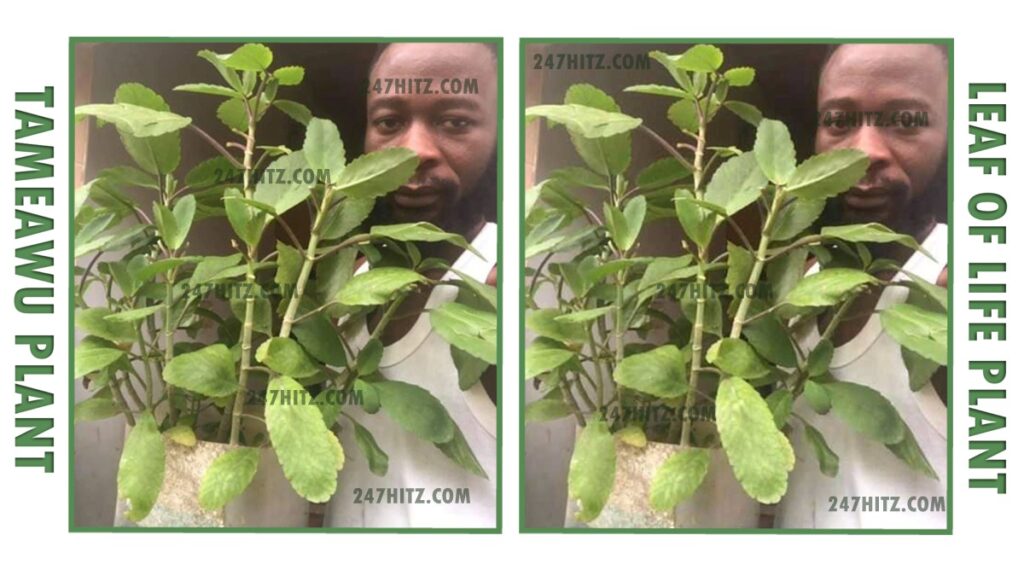 The plant is a tropical and sub-tropical succulent perennial herb that grows about 1 – 2 meters in height. The Taameawu plant has a hollow stem, that can be red or green in color. It is thick, short, and flexible. The plant is glabrous and succulent. It is scattered across Africa and grows well in the tropical regions.
It is called Miracle Leaf or Leaf of Life because it grows even without roots, sunshine, or water. If you should cut the Tameawu leaf into smaller pieces and cover them with soil, it will grow few days' time. Surprisingly, it will still grow if you put it inside a book. Isn't this a miracle? This is an amazing plant that does not die!
10 Spiritual Uses of Leaf of Life / Tameawu leaf
It can be used to get Good luck.
It can be used to collect debt.
The leaf can be used as love spells.
It can be used to get favors from people, work, etc.
It can be used as protection against witchcraft.
It can be used to overturn curses.
It protects you against spiritual marriages.
It can be used as protection against any evil eye.
It can be used to destroy spells.
It can be used to help boost your business.
SEE ALSO: Miracle Leaf Benefits and Uses You Should Know.
10 Health Benefits of Tameawu Leaf (Leaf of Life)
Here are some of the amazing health benefits of the leaf of life plant:
The plant improves sleep quality and general well-being in cancer patients, reducing blood pressure as well as preventing kidney damage. Especially, in people with high blood pressure, among other therapeutic benefits.
It has also been said that the lightly roasted leaves are used against cancer and inflammation. It is also a leaf infusion used for fevers according to Creoles. An infusion is a tea extract or drink prepared by soaking tea leaves or herbs in liquid.
A mixture of this leaf juice with coconut oil is used as a remedy for migraines and headaches.
Some indigenous people heat the leaves and apply them topically to boils and skin ulcers.
In Ecuador, the leaf of life is used to treat broken bones and internal bruises.
Infusion of leaves and stem in cold water are used by indigenous tribes of Peru for the treatment of heartburn, urethritis, fevers, and for all sorts of respiratory conditions.
The root infusion is also used in epilepsy.
The leaves are known for their anti-inflammatory and anti-diabetic activity, anti-hypertensive activity, and anti-tumor activity.
Antiulcer potentials of herbal drugs have been reported in various scientific studies.
The Tameawu leaf is used in our local homes to treat fungal infections like ringworm and sores.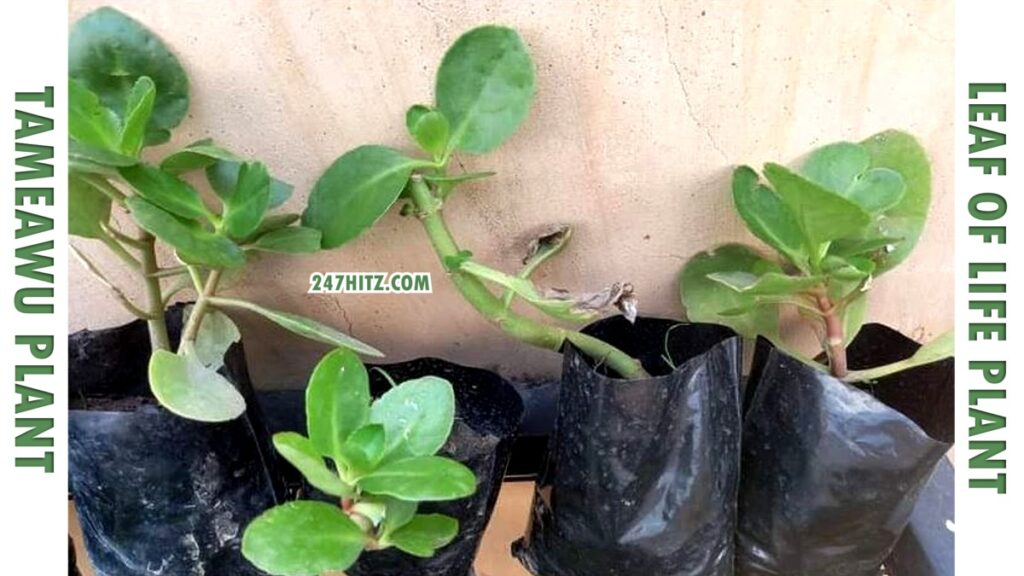 How to Use The Tameawu Leaf to Get Results
I am going to show you how you can use the Tameawu Leaf to get effective results both in terms of health, wealth, and spirituality.
1. To use the Tameawu leaf for cooling the heart, chewed the leaf or boil it for tea. This is good for all heart-related ailments.
2. To heal your wounds and sores both internal and external do this; for internal wounds, chew and swallow the leaf. If the wound is outside the body, pluck a leaf or two and heat it over the fire. Use the leaf to cover the sore or boil on your body then bandage it tight.
3. To treat cough in children, all you need to do is pluck a Tameawu leaf then squeeze and extract the liquid. Give this liquid to the child to drink and they will be relieved soon.
4. If you want to protect yourself or detoxify, you can chew a leaf or two a day for detoxification and protection.
5. You can use it to prepare palm nuts soup. Add some leaves to the boiling palm nuts and pound them together.
6. It's used as a vegetable. You can cut it into pieces and mix it with your salad or your vegetable stew.
7. If you want to use it for spiritual protection, you can add it to your bathing water, especially if you are one of those people who take their baths late at night.
8. To draw your lover close to you, read this article.
9. To solve low sperm count issues, get taameawu plant and eat three leaves whenever you wake up. If you do this for up to 1 or more weeks, your sperm count will increase.
TRENDING: How to Use Tameawu to Get Money.
The USE of Tameawu for Spiritual Bath
A spiritual bath is the cleansing of the body against evil spirits, witchcraft, etc. Perform this spiritual bath when you are suffering from the following:
Spiritual marriage
Unemployment
Bad luck
Poverty
Spiritual illness
Business failure
Barrenness
USAGE:
Get your TAMEAWU leaves and make a wish on it based on your predicament.
Put the Tameawu leaf in a bucket of clean water and bathe it twice daily.
SEE ALSO: This Herb Will Make Your Partner Love You Forever.
Powerful Health Benefits of 
The Miracle leaf stands out as one of the most potent plants globally, boasting a myriad of health benefits. Notably, it possesses the ability to address various ailments and improve well-being. Here are some key health applications:
Kidney Stone Treatment: Boiling and consuming a few leaves of the Miracle plant twice a day has shown promise in treating kidney stones effectively.
Urinary Disorder Relief: Individuals grappling with urinary disorders can find relief by consuming a mixture of boiled leaves and honey, twice daily.
Boil Treatment: The application of warmed, ground Miracle leaves with salt to affected areas aids in curing boils, and reducing redness and swelling.
Hypertension Control: Extracts derived from the aerial parts of the Miracle leaf have been linked to regulating blood pressure levels.
Blood Cancer Support: For individuals with leukemia or blood cancer, the Miracle Leaf may provide supportive effects.
Vaginal Disorder Remedy: Women seeking relief from vaginal disorders can rely on the Miracle Leaf by consuming a mixture of boiled leaves and honey.
Headache and Eye Pain Relief: The application of ground leaves on the forehead or the juice around the eyes may alleviate headaches and eye pains.
Wound Healing: A mixture of warmed, ground leaves with salt, applied to wounds, aids in faster healing.
Diarrhea Control: By combining the juice of Miracle leaves with cumin seeds and ghee, individuals can effectively manage and control bleeding diarrhea.
Liver Health and Jaundice Remedy: The Miracle leaf has been found to promote liver health and expedite the recovery of individuals suffering from jaundice.
Asthma and Respiratory Support: Consumption of boiled leaf juice, along with sugar candy, has shown potential in alleviating cold, cough, and even asthma symptoms.
Nourishment for Hair and Gray Hair Treatment: Extracts derived from the Miracle leaf contribute to hair health and are utilized in some herbal green teas for their antioxidant properties.
Ear Problems: Applying the leaf's juice may help alleviate ear pain and improve overall ear health.
READ ALSO: Adedenkruma Leaves Spiritual Benefits.
Spiritual Significance and Rituals
Apart from its healing properties, the Miracle leaf holds spiritual significance. The article mentions specific rituals associated with the plant, emphasizing the importance of respect and proper practices.
Spiritual Protection: Placing a coin near the root and seeking permission before plucking the leaf is recommended for spiritual protection.
Bathing Ritual: The article suggests a bathing ritual involving squeezing the leaf's juice, mixing it with water and salt, and bathing with this mixture. It advises letting the water dry naturally and going to sleep without using a towel. This ritual is believed to aid in spiritual purification and manifestation.
Cautionary Notes
While the Miracle Leaf offers numerous benefits, the article acknowledges its potential negative aspects without providing specific details. It advises exercising caution and adhering to proper usage guidelines.
Frequently Asked Questions
Is Tameawu Leaf juju?
No. It is not juju but it can perform a lot of miracles.
Can Tameawu Leaf Heal Me?
Yes! The Tameawu Leaf can heal, protect and detoxify you.
How many times can I use Tameawu Leaf?
There no limit. You can use Tameawu leaf endless.
What is the side effect of Tameawu leaf?
It has no known side effects. You can consult your physician if you are still worried.
Is Tameawu leaf edible?
Yes. The Tameawu leaf is edible. You can eat the leaf or you can add it to your soup or stew.
Did you find this information: "Spiritual Uses of Leaf of Life – Tameawu Leaf Benefits" useful? Share it with others on social media groups, forums, instant messaging apps' groups, and any platform you deem appropriate to share the good news. Subscribe to our notifications to receive more useful information like the above as soon as we publish them.