MTN Ghana Unveils New Network Code 053 | In Ghana, MTN is a notable company in the mobile telecommunications sector. In terms of Pay Monthly and Pay As You Go Services, it provides members with a wide variety of intriguing possibilities.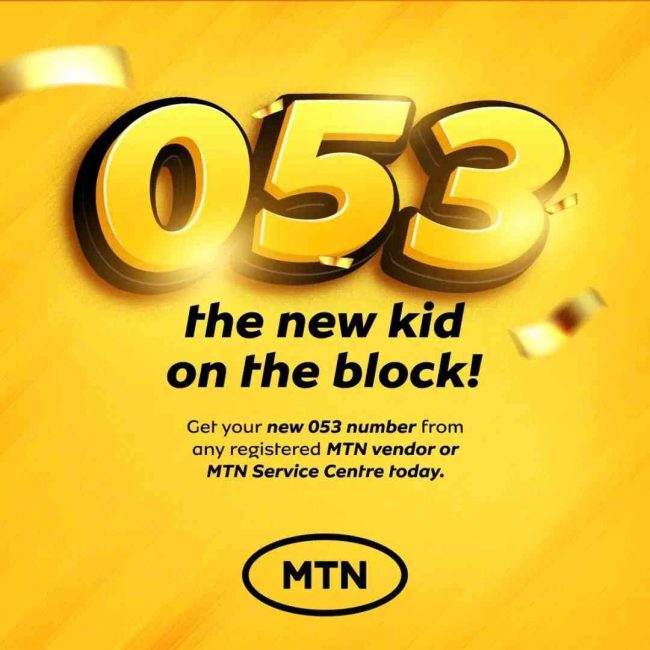 MTN Ghana Unveils New Network Code 053
053 is a new network code that MTN Ghana has revealed. This will add to the other 5 already existing network code that they are using to serve their over 1.3 million subscribers.
List of MTN Network Codes 2023
MTN has 5 already existing network codes, with the addition of this new one making it 6. These are the current MTN Ghana  network codes:
024,
025,
054,
055, and
059
053
READ ALSO: How to Activate MTN Sunday Special Code.
Chief Sales and Distribution Officer of MTN Ghana, Samuel Addo, commented on the new network code, saying, "In this digital age, it is crucial we ensure that everyone is connected, especially enterprises, as well as family and friends to bridge the digital divide.
MTN Ghana will be able to connect more people nationwide and help the growth of companies thanks to the new network code (053). Additionally, customers will be able to take advantage of a wide range of services, such as data packages and mobile financial services.
Where to Buy the New MTN Sim Card (053)
All MTN-authorized sales touch points nationwide will offer the new SIM card numbers.
The general public is urged to embrace the new network code that has been added to the list of MTN codes and take notice of it for their actions. With this new block of numbers, calling procedures are unchanged. Customers must dial the appropriate prefix, such as 053, and their personal number in order to make calls or send SMS (053 2000000).
READ ALSO: MTN Ghana Introduces New Network Code 059.
Customers must dial the country code, the appropriate prefix, and their specific number, such as +233 53 2000000, while making international calls.
Customers are also warned that the official MTN Ghana number is still 0244300000, and as a result, they should be on the lookout for con artists who might use the new network code to commit fraud.
Contact MTN Ghana
MTN is accessible to clients on its digital platforms. All complaints and reports can be directed to them through the following channels:
Facebook: MTNGhana;
WhatsApp: 0554300000 and 0555300000;
Twitter: @MTNGhana/@AskMTNGhana; and.
MTN Ghana customers can also email [email protected] or use the MyMTN App.
READ ALSO: MTN Short Codes for Data Bundles.
We love reading your own comments and opinions about our articles. Let us know in the comments section what you think about this article "MTN Ghana Unveils New Network Code 053″ and don't hesitate to leave us a tipoff if any.
Subscribe to our mail listing or our notifications to receive the latest updates on your devices as soon as we publish them.
Share this useful articlce with friends, families and loved ones on various social media platforms.
Source: 247Hitz.Com | MTN Ghana Unveils New Network Code 053