Ghanaian controversial counselor, Counselor George Cyril Lutterrodt, is known for his speaking bitter truths on matters arising in the country. He has hinted at Ghanaian women on one of the qualities to look out for when choosing a life partner.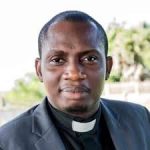 He mentioned some qualities, that to him if a woman doesn't find in a man, should not consider him as a "husband material" or a man who can father her children.
In an interview on TV Africa, the controversial counselor attributed the rampancy of divorces in just a few years to women who fail to look out for men who have the traits of being a father and not just husbands.
READ ALSO: Ghanaian Musician Fameye and Girlfriend Welcomes A Bouncing Baby Boy
He opined that, in the 21st century, some men would be all-loving and caring when they have no children but would have attitudinal changes when a child comes into the marriage and this has contributed to the separation of many marriages over the years thereby advising women to look out for men who would accept fatherhood wholeheartedly and not just being husbands.
READ ALSO: John Dumelo Fulfills Promise Made To West Legon Residents.
Watch Counselor Lutterodt interview below as he gives women some intel!
Subscribe to our notifications to receive future updates about counselor Lutterodt and other celebrities. You will be the first to receive our latest updates as soon as we hit the "publish" button. Share this article with friends, families, and loved ones on various social media platforms.