Coronavirus has developed into a global pandemic with a few weeks of its outbreak. As an innovative way to help fight the coronavirus (COVID-19) across the globe, Facebook Developers, a branch of Facebook that focuses on developers has launched and announced the #BuildforCOVID19 Global Hackathon. 
This hackathon does not include any monetary prizes. As at the time of writing this article, a few hours after the hackathon was launched, 11,935 developers were already participating.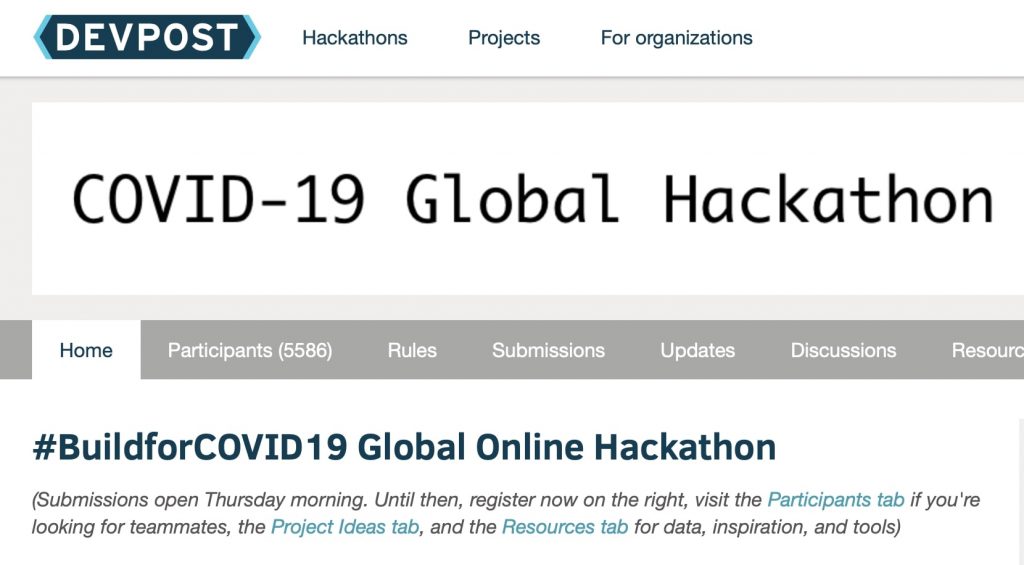 READ ALSO: COVID-19: Ghana Official Websites To Check Updates of Confirmed Coronavirus Cases.
1. What is the #BuildforCOVID19 Global Hackathon
According to Devpost.Com, The COVID-19 Global Hackathon is an opportunity for developers to build software solutions that drive social impact, with the aim of tackling some of the challenges related to the current coronavirus (COVID-19) pandemic.
This hackathon is for YOU – programmers, developers, and innovators around the world – to #BuildforCOVID19 using technologies of your choice across a range of suggested themes and challenge areas – some of which have been sourced through health partners including the World Health Organization and scientists at the Chan Zuckerberg Biohub.
This hackathon according to Devpost.Com welcomes locally and globally focused solutions and is open to all developers – with support from technology companies and platforms including AWS, Facebook, Giphy, Microsoft, Pinterest, Slack, TikTok, Twitter, and WeChat, who will be sharing resources to support participants throughout the submission period.
SEE ALSO: COVID-19: Nigerian President Chief of Staff Tests Positive to Coronavirus.
2. Why Participate In The #BuildforCOVID19 Global Hackathon
With the World Health Organization (WHO) declaring coronavirus (COVID-19) a global pandemic, governments have issued guidance for members of their countries to practice social distancing, while companies have enforced work from home policies in an effort to flatten the curve of viral infections among works and across the population.
Given the isolation situations currently being experienced in different countries around the globe right now, we want to create an online space where developers can ideate, experiment, and build software solutions to help address this crisis.
This means that various developers from around the globe would be coming together sharing ideas on how to build, experiment, and deploy software solutions in this moment of a global crisis.
READ MORE: Medikal And Fella Makafui To Donate Items to Support The Fight Against Coronavirus.
3. What Areas & Themes Would This Hackathon Focus On?
The team at Facebook Developers has connected with various partners including the World Health Organization (WHO) to understand some of the key challenging areas that technological innovation could help solve.
Some examples from the WHO here include the need for accurate disease prevention/control information around the world in languages/formats that resonate locally, as well as regional needs for expertise, resources/supplies and financial support from donors.
This hackathon is going to focus on many areas that concern the fight against the coronavirus pandemic. Facebook is suggesting these seven areas/themes below to help spark your ideas. Remember that you're welcome to build with the technologies of your choice, across any areas that you think would drive impact for these issues, so feel free to think outside the box too!
Health: Address and scale a range of health initiatives, including preventative/hygiene behaviors (especially for at-risk countries and populations), supporting frontline health workers, scaling telemedicine, contact tracing/containment strategies, treatment, and diagnosis development.
Vulnerable Populations: Problems faced by the groups of people who are disproportionately affected by the various health, economic, and social issues related to the COVID outbreak around the world, such as those with underlying health conditions or a thin social safety net.
Businesses: The set of problems that businesses are facing to stay afloat, collaborate effectively and move parts of their business online.
Community: Promoting connection to friends, family, and neighbors to combat social isolation and the digitizing of public services for local governments.
Education: Alternative learning environments and tools for students, teachers, and entire school systems.
Entertainment: Alternatives to traditional forms of entertainment that can keep the talent and audiences safe and healthy.
Other: The above themes are just suggestions. Feel empowered to get creative!
SEE THIS: Do Christians In Ghana Think Christians In Italy Are Not Dying? – Fella Makafui.
Timeline For The Build for COVID-19 Global Online Hackathon
3/24: Registration opens on Devpost.
3/26: 9:00 AM PST Project submissions open on Devpost.
3/30: 9:00 AM PST Deadline to submit projects, including a 2-minute video walk-through.
Week of 3/30: Judges will endeavor to provide feedback and connect with selected projects shortly after that (so long as these activities remain unaffected).
4/3: Highlighted projects will be announced.
There are rules governing the #BuildforCOVID19 Global Hackathon. To participate in this hackathon successfully See RULES Here!
What Are The Prizes For The Build for COVID-19 Global Hackathon
For this hackathon, there are two rewards you will earn from participating. The first is Social Impact and which is followed by Global Recognition.
Social Impact: The real reward is driving a meaningful social impact for the COVID-19 response.
Recognition: Judge-selected projects will be shared widely across the tech ecosystem and partner networks across the globe.
ALSO READ: Official Music Video: Kofi Jamar – In The City ft Ice Prince X Khaligraph Jones.
Requirements: What Success Looks Like

Option 1: Build a production-ready solution for immediate impact

These will be projects that are ready to hit the ground running in communities around the world.
Examples include:
Option 2: Ship an awesome proof-of-concept with lots of potential

These will be conceptual projects with bucket-loads of promise.
Examples include tools for:

Helping people with supplies or resources locally
Combating loneliness
Replacing income with work-from-home options
Production-ready projects will not be favored over proofs-of-concept. The judges' north star will be submissions that have the strongest potential impact on the challenges caused by COVID-19.
REQUIREMENTS
Submission form 

Submit your project here on Devpost before the deadline and be sure to answer all of the questions on the submission form. This and other information related to your submission will be treated consistent with the Devpost privacy policy.

Video

Upload a video walk-through your solution via YouTube or Vimeo, and include the link on your Devpost page for your project.
By submitting a video, you are acknowledging that these materials may be used to promote the hackathon anywhere in the world, without extra obligation to you.
Videos should be a maximum of 2 minutes long.

Only the first two minutes of each video will be evaluated.

GitHub or other code repo link (optional)

Please ensure that this link is publicly shareable so judges can access your project
SEE MORE: Best Friends In The Word by Neptune3 Studios Nominated for GAGE Awards 2020.
Judges for the hackathon will son been announced as time goes on. According to the original post on DevPost, the criteria for judging your work is the "impact".
Deadline: 9:00am PDT Mar 30, 2020
Questions? Email the hackathon manager
Be a #COVID19 Hacker, help the world fight against this deadly coronavirus.
This article: Facebook Launches The Build for COVID19 Global Online Hackathon, was originally published on DevPost.Com