Corona Virus Cases In Ghana – Accra, Ghana. | The Ghana Health Minister, Mr. Kwaku Agyeman has released a letter stating that Ghana has recorded two cases of the COVID-19 popularly known as the Corona Virus.
The release of this letter confirming records of the deadly pandemic in Ghana around 11.00 pm on Thursday, 12th March 2020 is already raising an alarm of fear and panic across the country.
The letter which was addressed and signed by the Minister for Health reads:
READ ALSO: Full List of Nominees For Vodafone Ghana Music Awards 2020 Unsung Artiste.
FOR IMMEDIATE RELEASE: GHANA CONFIRMS TWO CASES OF COVID-19
Fellow Ghanaians, the Ministry of Health has confirmed two cases of COVID-19. The cases were confirmed on the 12th March 20120 and the first cases to be reported in Ghana.
Laboratory results of the two confirmed cases were received at the same time from the Noguchi Memorial Institute For Medical Research.
Both individuals returned to Ghana from Norway and Turkey. So these are imported cases of COVID-19.
Both patients are currently kept in isolation and are stable. We have initiated processes for contact tracing.
I wish to assure all Ghanaians that the Government of Ghana together with all Health Partners will continue to work assiduously to ensure the situation is contained.
We wish to encourage every Ghanaian to take care of their health and that of their families by adhering to the following precautionary measures:
Regular and thorough washing of hands with soap under running water and use of alcohol-based hand sanitizers.
Avoid shaking hands
Keep distance at least 2 meters from a person with fever, cough, sneezing, and difficulty in breathing.
It is advised to be physically active and drink planty of water, eat healthily, avoid stress and have enough sleep.
Stay home if you feel unwell with symptoms of fever, cough, and difficulty in breathing and call the following numbers immediately: 0509497700, 0558439868.
Signed.
KWAKU AGYEMAN (MP)
MINISTER FOR HEALTH
READ MORE: This Video Show Why Medikal Dumped Sister Derby & Married Fella Makafui.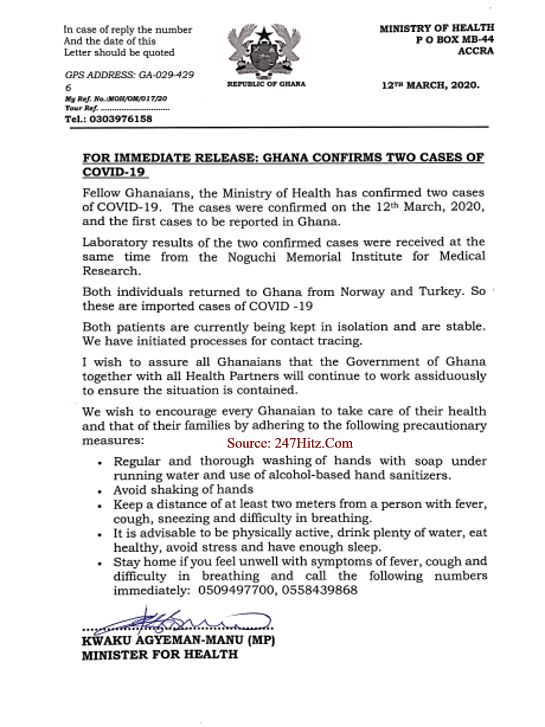 SEE ALSO: Wikipedia Adds Some Ghanaian Dialects To Their List of African Languages.
This information was circulating on social media just a few minutes to 12.00 am. Do you think Ghana has actually recorded their first cases or the Ghanaian Government is simply playing smart after setting aside $100M to tackle the pandemic?
Kindly let us know what you this about this report from the Minister For Health. Thanks for visiting this website for more news updates and don't forget to share. Thank you!
Buy the author a coffee