Best Friends in The World Senior Year EP2 Hits 1 Million Views
This is amazing news to all viewers and fans of Best Friends in The World. A few days after the most anticipated web series was released, it already went viral as it was trending number 1 in Nigeria and number 2 in Ghana.
It is been a week since Best Friends in The World Senior Year Episode 2 was released and guess what? The video has already accumulated a little over 1 million views on the popular video streaming platform, YouTube.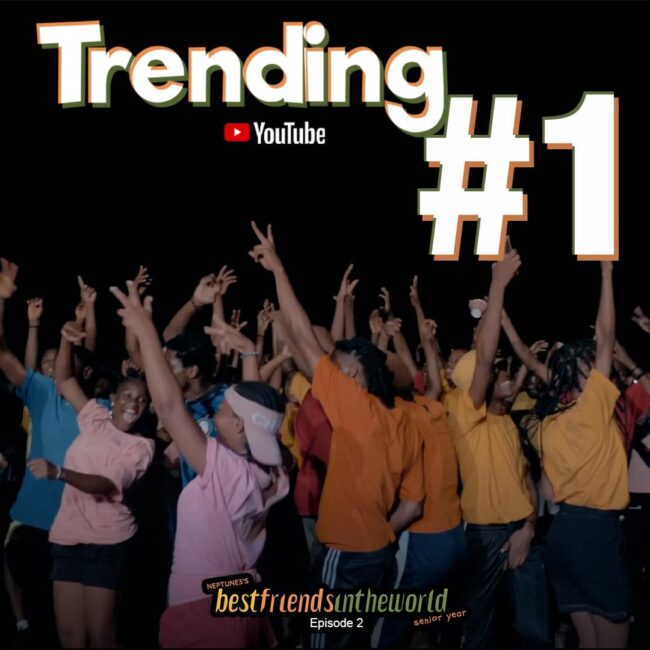 Best Friends in The World Senior Year EP2 Hits 1 Million Views
This didn't really come as a surprise because they have it in 4 days with Senior Year episode 1. The excitement about this news is that it proves to the producers that they didn't waste their time and effort to bring out that piece.
READ ALSO: Meet the Cast of Best Friends in the World Senior Year.
With excitement, the producers of Best Friends in The World announced on Facebook:
"We love that you love it… the drama continues in a week. Episode 2: https://youtu.be/OKoXd6bhb8Y"
The web series is really becoming more exciting as new characters are introduced and more drama unfolds scene after scene. This is why it is attracting more viewers, both new and old.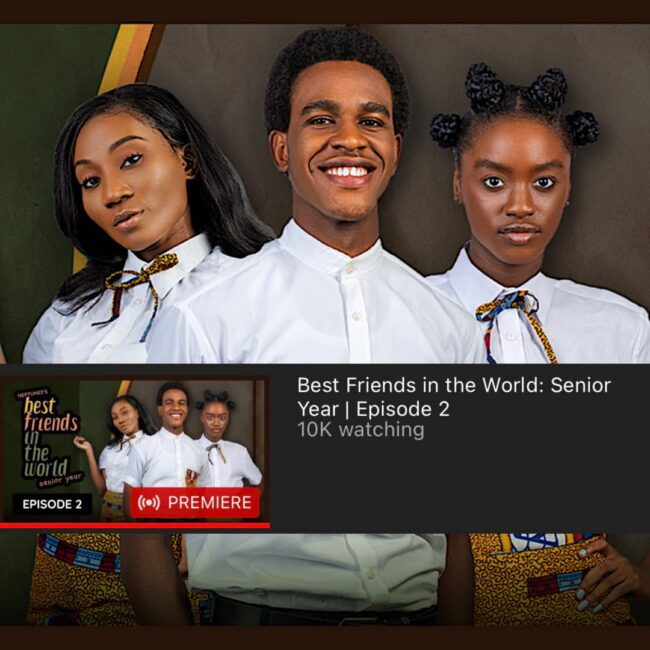 Meanwhile, in an earlier post made by Neptune3 Studios, they made mention that they are have broken their Livestream record.
"What a premiere! We broke our Livestream record— again 🤯 You guys made it such a HUGE and rewarding success. THANK YOU! #BFWSeniorYear episode 2 is up now on our YouTube channel. Go have an hour of fun! https://youtu.be/OKoXd6bhb8Y"
SEE MORE: Download Jeiel Damina What Best Friends Do.
Fans of Best Friends in The World who have to watch the first two episodes are already anticipating the next episodes. They use this opportunity to tell the film to their friends or loved ones who haven't watched it yet.
As of the time of writing this article, Neptune3 Studios has already released the first two episodes of Best friends in The World Senior Year.  Viewers and fans are anticipating the release of episode 3 already.
Are you enjoying the new developments in your favourite web series?
If you haven't started watching "Senior Year", click the link below to start watching now.
What do you think about the introduction of the new character?
READ ALSO: Jeiel Damina Biography & Net Worth, Age, Boyfriend, Father, Wiki.
We love reading your comments dear reader. We would like you to share with us whatever you think in the comments section below.
Subscribe to our notifications to receive the latest updates about Best friends in The World by Neptune3 Studios and other amazing series on your device as soon as we publish them.
Don't forget to share this article with your friends, families, followers, or audience on any social media platform that you deem worthy of sharing. Thank you!
Source: 247Hitz.Com | Best Friends in The World Senior Year EP2 Hits 1 Million Views